Complete Package – One Stop Shopping – Boat Shrink Wrap Kits
At last you have the advantage of making one contact for all of your premium shrink wrap supplies!  At Dr. Shrink, Inc., 98% of all orders are processed and shipped within 24 hours from our efficient fully-stocked warehouse located in Manistee, Michigan. Shrink wrap, heat tools, tape and any installation accessory you can think of…WE'VE GOT IT.
Interested in a Boat Shrink Wrap Kit? We have all the products you need to create a customized kit, and experienced salespeople to help you choose the correct products. See below for a brief overview of the recommended products to get you started.
Here's an itemized list of start up supplies that we recommend for the Marine Industry:
• Shrinkfast 998 Heat Tool Kit (DS-SHFAST998) Commercial grade, commercial use or  
• Shrinkfast MZ Heat Tool Kit (DS-SHFASTMZ) Perfect for the homeowner or do-it-yourselfer
• Shrinkfast 998 4′ Extension (DS-SHFAST998-4)
• Strap Tensioning Tool (DS-15)
• 3/4″ x 2100′ Woven Cord Strapping (DS-750)
• 3/4″ Buckles (DS-075)
• 4″ Heat Shrink Tape (DS-704)
• Professional Film Knife (DS-007)
• Ring Cutter (DS-RCUT)
• Safety Gloves (DS-009)
• End Caps (DS-CAP)
• Weather-Tight Self-adhesive Vents (DS-683)
• 14′ x 128′ 7mil Shrink Wrap (DS-147128)*
• 17′ x 110′ 7mil Shrink Wrap (DS-177110)*
• 24′ x 120′ 7mil Shrink Wrap (DS-247120)*
• 32′ x 100′ 7mil Shrink Wrap (DS-327100)*
*These are the most common sizes used for wrapping boats.
Extra supplies:
• End Caps (DS-CAP) & Bottom Caps (DS-BCAP) *as needed
• Zipper Access Door (DS-36) – allows access into the covered object.
• Weather-Tight Filter Vent (DS-683F) – keeps dirt, dust and bugs out of shrink wrapped products.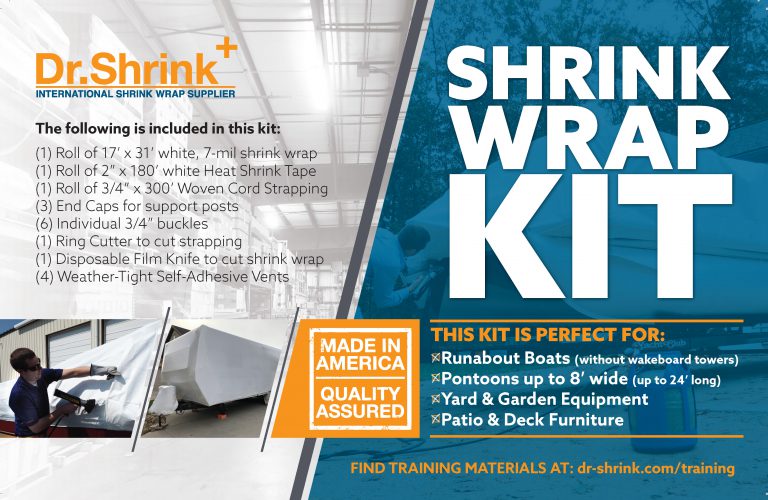 *This shrink wrap kit is designed for standard runabouts without wakeboard towers up to 24′ and pontoons up to 24′ with up to an 8' beam.  Also great for yard and garden equipment, and patio and deck furniture.  Please note this kit DOES NOT come with a propane fired heat tool.
The following is included in this kit:
(1) Roll of 17' x 31' white, 7-mil shrink wrap
(1) Roll of 2" x 180' white Heat Shrink Tape
(1) Roll of 3/4" x 300' Woven Cord Strapping
(3) End Caps for support posts
(6) Individual 3/4" buckles
(1) Ring Cutter to cut strapping
(1) Disposable Film Knife to cut shrink wrap
(4) Weather-Tight Self-Adhesive Vents
What you will need to supply:
• Propane Fired Heat Tool
• Ladder
• Hand Saw
• 2×4 Support Poles
• Propane Tank

We are your single source supplier offering Dr. Shrink premium shrink wrap and installation supplies, world class customer service, and the most experienced application advice. Everybody at Dr. Shrink, Inc. is more than happy to help at any time. Place an order online, call 800-968-5147, or email us anytime for assistance.