Happy October everyone! It's been great to hear from many of our marine customers as things are getting wrapped up for the winter season. In today's world, online ordering has quickly become one of the best and most efficient ways to order nearly any product. Shrink wrap is certainly no exception. Here at Dr. Shrink, we strive to make ordering as simple and convenient as possible. We work continuously to provide options that best suit your personal and business needs.

For product at your fingertips, simply visit our newly designed website at www.dr-shrink.com. New product filters make finding what you need easier, and being able to use your own shipping account and/or NET terms at checkout have been very popular. Are you a loyal customer who knows part numbers of needed products? Simply visit our "Quick Order" section, type in the part number, select quantity and add to cart– all from one page!

I would also like to mention that October is breast cancer awareness month. Manistee's "Survivor's Rock" is wrapped up in pink shrink wrap again this year to promote breast cancer awareness and honor those affected by breast cancer. October 3rd is Munson Healthcare Manistee Hospital's 12th Annual "Paint the Town Pink" community-wide event; all proceeds stay local to support women's services and will benefit the purchase of advanced bone densitometry technology. It is wonderful to be a part of such a great community.

Thank you for working with us. It is our pleasure being your trusted shrink wrap supplier!
Mike Stenberg
President & CEO
Dr. Shrink, Inc.
INSIDE THE OCTOBER NEWSLETTER
New! Shrink Wrap Kits – Tips for the Ultimate Shrink Wrap Job – How-To Video for Patio Furniture – Weekly Bundle Sneak Peek
INNOVATORS IN THE INDUSTRY – New Products & Features by the Dr.
NEW Shrink Wrap Kit!
We've always said you can "get it all in one place" for your shrink wrap supplies with Dr. Shrink…now you can get it all in one box! Check out our new Shrink Wrap Kit — all packaged neatly together and sold as a kit!

This is the perfect kit for wrapping runabout boats up to 24′ (without wakeboard towers) and pontoons up to 24′ with 8′ beam. Also great for yard & garden equipment, and patio & deck furniture!
The following is included in this kit:
(1) Roll of 17' x 31' white, 7-mil shrink wrap
(1) Roll of 2" x 180' white Heat Shrink Tape
(1) Roll of 3/4" x 300' Woven Cord Strapping
(3) End Caps for support posts
(6) Individual 3/4" buckles
(1) Ring Cutter to cut strapping
(1) Disposable Film Knife to cut shrink wrap
(4) Weather-Tight Self-Adhesive Vents
All you'll need from your own toolbox is a propane fired heat tool, ladder, hand saw, 2×4 support poles, propane tank and you're off to shrinking! Please find the complete product listing for our new Shrink Wrap Kit on our website.

Our handy guide has all of the information you need to shrink wrap a recreational boat, a sailboat mast down or mast up, as well as film sizes and venting, how to properly install our DS-683 Weather-Tight Vent and how to properly use the strapping and buckles. Click here to see the entire guide or print a copy as a reference sheet. The Dr. has you covered with a growing library of how-to videos. We cover a wide variety of shrink wrap applications from recreational boat wrapping, full encapsulations, RV campers, patio furniture and sail boats with the mast up! Access our how-to video library by clicking here.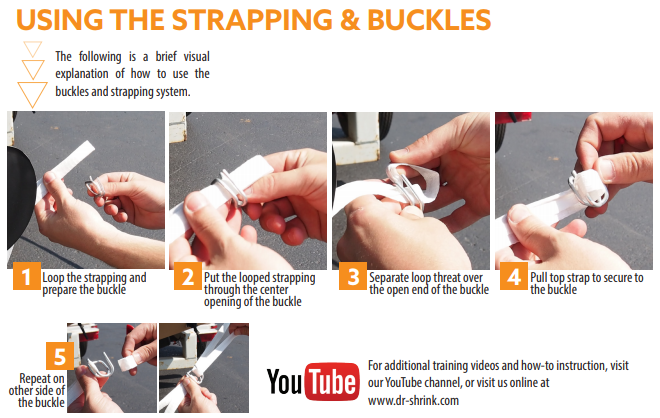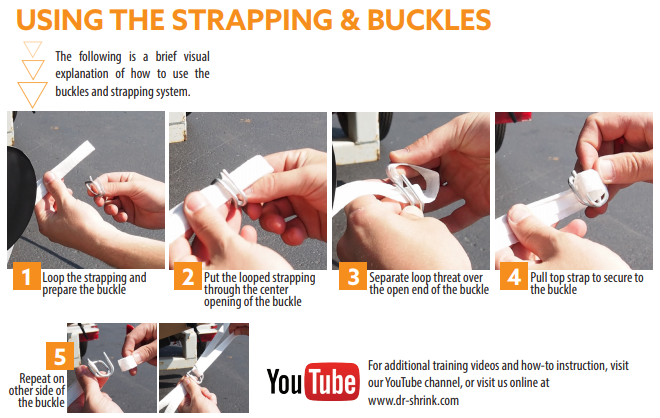 At. Dr. Shrink, we stock a complete line of American-made shrink wrap products capable of wrapping any size or type of boat, machinery, scaffolding, equipment, and more. With premium shrink wrap available up to 60 feet wide, even the largest of items can be protected from storage or shipping damage. Interested in tapping into one of the below industries? Learn more on our website and fill out our industry application form– we'll be in touch!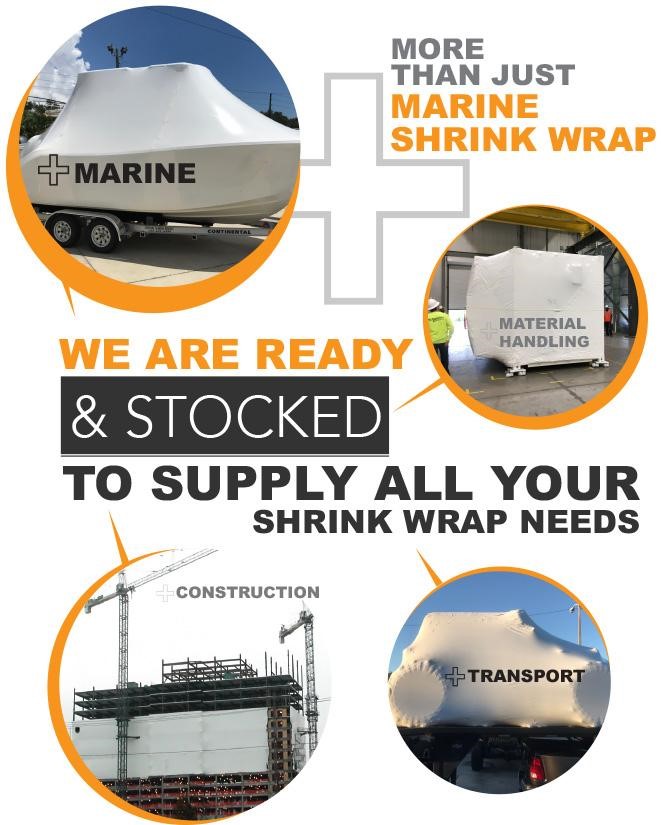 WEEKLY BUNDLE DEALS FROM THE Dr. – Here are the goodies you can expect this upcoming month…

Take advantage of weekly deals from the Dr. Above is a preview of what you can expect this upcoming month. If you are not currently part of our weekly bundle emails, please feel free to subscribe to our e-list. It's FREE!