September Notes from Mike.
While we have enjoyed every bit of our Summer season, the Dr. Shrink team has been preparing for Fall for several weeks. Our fall mailers have been mailed out and the early-buy shrink wrap discount is in full swing for those who qualify. Our warehouse is stocked and ready for your winterization orders!
Don't forget if you are part of a business, you can unlock preferred pricing online. If you haven't ordered from us before, please fill out our Preferred Price Request Form and we will get you approved! If you are already a current customer and would like a login for our website, email us your company information and skip the form!
Our thoughts are with everyone who is recovering from the damages caused by Hurricane Idalia. There is a section in this newsletter regarding shrink wrap being used for disaster restoration/roof repair. We have had several calls for this application the last few weeks and hope this information will be helpful. If you would like to contact us regarding this industry, feel free to fill out this short form and we will be in touch.
We look forward to another great season working with you. Please let us know what we can do for you and thank you, as always, for allowing Dr. Shrink, Inc. to be your trusted shrink wrap supplier. We greatly appreciate your business. Hope everyone has a safe and happy Labor Day weekend!
Warmest Regards,
-Mike Stenberg, President & CEO, Dr. Shrink, Inc.

🌀 SHRINK WRAP FOR HURRICANE SEASON- DISASTER RESTORATION AND ROOF REPAIR
🛠️ SAVE LABOR WITH DR. SHRINK – OUR INNOVATIVE PRODUCTS THAT SAVE TIME!
🛥️ LET'S WRAP IT UP! MARINE, RECREATION, AND DIY INDUSTRY FOCUS
📭 15 DAYS LEFT! 10% OFF SHRINK WRAP ONLINE UNTIL SEPTEMBER 15TH
*Discount only valid on standard Retail and Business Tier pricing only*
📦 LOCAL CUSTOMER PICKUP INFORMATION FOR 2023
⚾ DR. SHRINK TEAM ENJOYED A BEAUTIFUL EVENING AT THE BALLPARK

Hurricane season is here and Dr. Shrink is here for you!
Dr. Shrink offers a complete line of shrink wrapping products used to protect and/or compartmentalize structures after natural disasters (such as hurricanes) or while remediation/disaster restoration work is being done. Shrink wrap can be used to easily cover entire buildings, roofs, or other specific areas that are damaged.
Our thoughts are with everyone who is recovering from the damages caused by Hurricane Idalia.
Roof repair shouldn't be tricky.
Dr. Shrink can help you learn how to cover a roof with shrink wrap; if you've ever wondered about an alternative to a tarp on your roofing project then contact us! Replace your tarps, which fail quickly, with our durable, long lasting shrink wrap by simply fastening it to your roof and shrinking it with a propane fired heat tool. 
The Dr. Shrink Advantage:
Saves time and money
Premium shrink wrap up to 60′ wide and 12-mil thick
Sleek, waterproof, durable protection
100% virgin resin material with maximum UV inhibitors for long-term use
Our specialty Flame Retardant shrink wrap meets or exceeds all NFPA 701 specifications
Dr. Shrink Products Helping You Save on Labor Time
All of Dr. Shrink's products are made with you, the user in mind. They're made to make your life easier and your shrink wrap jobs hassle-free. Starting from the top of the picture down, we will explain how working with Dr. Shrink's products will help eliminate hassles and hurdles before, during, and after the shrink wrapping process.

Get it all wrapped up this year. The Dr. has you covered with a growing library of how-to videos. We cover a wide variety of shrink wrap applications from recreational boat wrapping, full encapsulations, RV campers, patio furniture, and sail boats with the mast up! Access the how-to videos on our training section of our website or our YouTube Channel.
Despite only 3 primary peak months, the Marine and Recreation Industry is one of the most recognized and well-known in the shrink wrap industry. With recognition comes saturation and this is the most competitive industry in shrink wrap. It is essential to provide quality products and service to your customers — rest assured when you use Dr. Shrink products, you are using the highest quality products on the market.
Don't Forget! 15 Days Left.
Don't miss out on our EARLY BUY discount on shrink wrap! 10% off shrink wrap online until September 15th, 2023 if you use promo code DRFALL23 at online checkout.
**Offer is only valid on standard Retail and Business tier pricing. Offer is available online only**
Are you with a business? You could qualify for Preferred Pricing on our website! Fill out our Preferred Pricing Request Form online. Your request will be received and review by the Dr. Shrink team quickly, and once approved you will receive a confirmation email and your online account will be granted business pricing.
If you already receive business pricing with Dr. Shrink, but don't have an online account set up yet, just email us your company info and we will get you hooked up!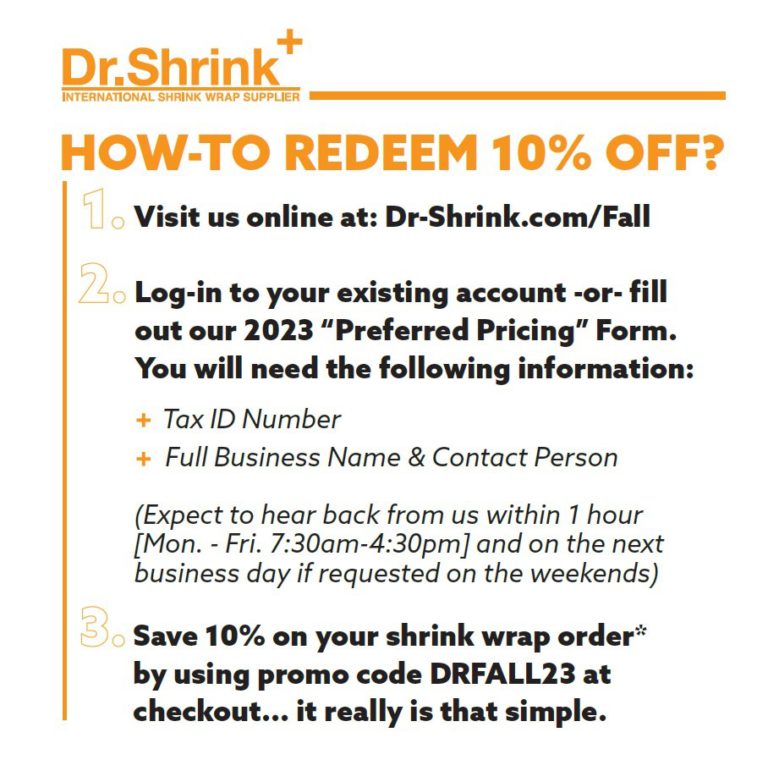 CUSTOMER PICKUP INFORMATION FOR 2023
Customers are welcome to pick up their orders from our warehouse in Manistee, MI- orders must be placed and paid in advance and you will need to call upon arrival. Our warehouse staff will load your truck or vehicle as long as the following criteria is met:
Dr. Shrink staff will load the material if:
The vehicle has a separate trunk, truck bed, or SUV rear gate
The vehicle has ample space to load
The space is cleared for the material prior to loading (Note, if the space is cluttered or materials/items need to be moved, the customer will be asked to come back after they have made room for the materials)
Dr. Shrink staff will not load the material if:
There is insufficient space
The space is not cleared
The customer wants the product in the back/front seats of the vehicle
Customers are welcome to load their own material if they are physically able. Please make sure you reference the weight and dimensions of your shrink wrap rolls and other items to be able to accommodate your pick-up.
Information to note prior to pick-up:
Come to the back of Dr. Shrink for pickup (shipping/receiving area)
Please do not block loading dock area
Remain in your vehicle and call 800-968-5147 to let us know you are here for pickup
We are open for pickup Monday-Friday from 8:00am-5:00pm EST. We will also be open on Saturdays starting September 9th until November 18th from 9:00am-2:00pm EST. If you place an online order for Saturday pickup, the order must be placed Friday by 2:00pm EST.
The safety of our staff and customers is our top priority and we thank you for your understanding!


Dr. Shrink had a fun evening at the Traverse City Pit-Spitters Baseball Game!
We are stocked and ready for your winterization orders!
Dr. Shrink will be closed Monday, September 4th for the Labor Day holiday. Business hours will resume as normal on Tuesday, September 5th.
Have a great holiday weekend!